Know the difference between lapse, expiry, transfer and surrender of consents
With many approved projects being put on hold due to the downturn, the security of resource consents for a deferred project will require close scrutiny. It's important to know that the consent for an approved (or partially completed) project will still be able to exercised when there is an upturn in the market.
Lapse (not giving effect to consent). Lapse applies to situations where the consent has not been given effect to. A resource consent will lapse on the date specified in the consent, or if no date is specified, five years after the commencement of consent, unless the consent is given effect to, or application is made to the consent authority to extend the lapse period having regard to substantial progress and other matters set out in section 125 RMA. Whether consent has been "given effect to" will be a question of fact and degree.
Duration or term of consent. Duration is the length of term of the consent, once given effect to. Duration is of greater importance to discharge consents, water consents and coastal consents all of which have a limited term which may be up to 35 years, or five years if not specified. Unless specified in any grant of consent, land use and subdivision consents have an unlimited duration: section 123 RMA.
Transfer. Transfer of consents is especially important to water and discharge consents, and also coastal permits. Typically transfer of a discharge consent or water permit takes effect on the notice being received by the regional authority. There is no prescribed form of transfer under the RMA although many regional councils have their own forms. Unless the consent expressly provides otherwise, a land use consent and a subdivision consent attach to the land under section 134 RMA, and do not require express transfer.
Surrender. The holder of resource consent may surrender the consent with notice to the consent authority under section 138 RMA. If a purchaser is expressly seeking to acquire a property for the benefit of an existing resource consent, then it is prudent for the purchaser to obtain an express warranty that the vendor will not do anything to affect the validity of the consent or to surrender or transfer the consent. Standard warranties need to be checked to ensure that they expressly deal with the issue of the possible surrender of resource consents.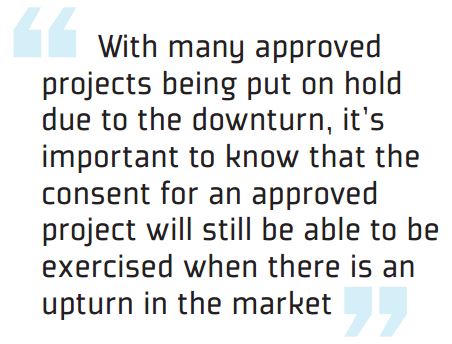 No rollover of existing consents due to expire.
The RMA has no "roll over" provision enabling automatic grant of resource consent for activities which currently have consent but whose consent is due to expire. Section 124 RMA enables the holder of an existing consent due to expire to apply for a new consent no later than six months prior to expiry, and to continue to exercise the consent while the new consent has been applied for and until such time as the consent application is determined, or any appeal resolved.